Introducing CCBHC Services at Cummins: Primary Medical Care, Mobile Crisis Services, Assertive Community Treatment, and More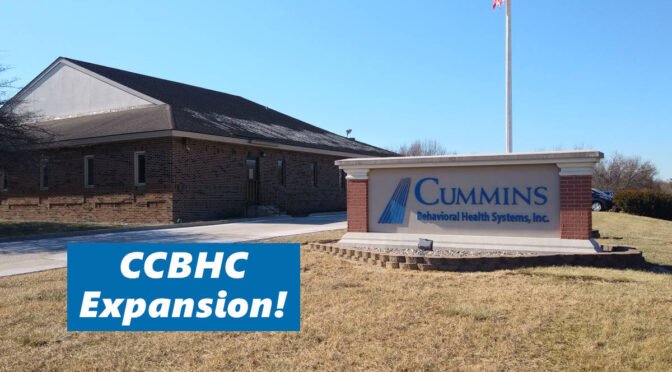 At Cummins, we understand that health is the foundation of a full and happy life.
When a person's health needs have been met, they are free to attend to other important parts of life: work and career, personal relationships, hobbies and interests, and spiritual practices, to name a few. However, when they are unable to meet their health needs, they may have difficulty focusing on the activities and goals that make life feel full. Their health challenges might keep them fixated on the upsetting parts of life: their pains, their disabilities, and their fears for the future.
Since we first opened our doors in 1972, Cummins has been committed to addressing the mental health and substance use needs of our community. We are proud of the work we've done and the services we provide for behavioral health, but we have long known that we could do more. Our clients' well-being is determined by their whole-person health. Therefore, we feel a duty to help them improve their health across all domains of personal wellness.
We're very excited to announce that we've recently made progress toward this goal! In 2021, Cummins received federal grant funding to become a Certified Community Behavioral Health Clinic (CCBHC) and significantly expand the range of services we can provide in Hendricks County. These new services are now available, and our Avon office has undergone significant construction to accommodate them.
We believe our expansion into a CCBHC will allow us to more fully serve our community and fulfill our mission of improving our clients' health and quality of life. In this post, we'd like to introduce our expanded service offerings and show how our Avon building has changed with the help of Megan McNeil, our CCBHC Project Director.
Introducing our CCBHC Service Line
Cummins' CCBHC expansion has involved a substantial amount of work from our entire team in Hendricks County. In some cases, existing services were enhanced to meet new standards of care; in others cases, entirely new service lines were created. "Everyone has been involved in making this work. This is the product of 18 months of planning, working, and gathering money," Megan McNeil says.
As Megan reiterates, the prevailing objective of our expanded service line is to offer a higher quality of care than was previously possible. "We want to be able to provide the best quality service to residents of the county, at a price point they can afford," she explains. "We're the community mental health center; we're here for them."
Primary Medical Care
Perhaps the most significant change to our service line is the addition of primary care services for our patients. Community members can now receive both mental health care and primary medical care at our Avon office, eliminating the need to visit separate providers from different networks. "WindRose Health Network is our partner in primary care services, so they employ the staff to provide those services here on site," Megan explains.
A component of these services includes better integration with our on-site Genoa Healthcare Pharmacy and more blood testing options at our on-site laboratory. For example, if you are prescribed medication by your mental health provider or primary care physician, you can get the prescription filled without ever leaving our office.
As for our laboratory testing, Megan explains, "We were doing lab services before, but our prior process was to draw the blood and then send it out for testing. And we'll still do that with very complex tests, but now we can do a lot of testing on site for things like obesity, diabetes, and hypertension. For our diabetic patients, we can test them right here and make sure everything's fine with their sugar levels."
Mobile Crisis Services
The second major change to our service line is the addition of mobile crisis services. These services are an expansion of our pre-existing, telephone-based crisis intervention services. Megan explains, "We now have a team of folks who can go out into the community and interface with law enforcement, first responders, community members, and schools to provide intervention for substance use and behavioral health crises."
Mobile crisis services are designed to stabilize individuals in the most clinically appropriate, least restrictive, least traumatizing, and most cost-effective manner possible. One of their greatest impacts is the reduction of unnecessary hospital visits and law enforcement involvement. "The thing that tends to happen with folks who don't have access to the care they need is they go to the emergency room for a behavioral health crisis," Megan says. "Our crisis team can provide interventions in the community to alleviate strain on the hospital system and keep folks out of jail who are not going to get any help from being in jail."
Assertive Community Treatment (ACT)
Another service we've been excited to introduce is Assertive Community Treatment, or "ACT". ACT is a high-intensity service intended to assist adults who have not achieved desired treatment outcomes from other behavioral health services. "It's a model that helps those struggling with serious mental illness, substance use, and chronic primary medical conditions like diabetes, obesity, or hypertension," Megan explains.
ACT services are provided by a multidisciplinary team that can include psychiatrists, nurses, therapists, skills trainers, employment specialists, and substance use specialists. These team members work together to provide care when it's needed and where it's needed—at any time of day, at an individual's home, place of work, in the community, or in our offices.
So far, we've seen excellent results among individuals in our ACT program. "They're going from having multiple hospitalizations every six months to having multiple months with no hospitalizations. So that's really good. And that lessens the strain on our medical ER services in our county," Megan says.
Care Coordination
Navigating health care options and deciding which services you need isn't always easy, especially when there are many choices available. Our last major service addition, called Care Coordination, is designed to assist with this challenge.
Megan explains, "We have staff now called Care Coordinators who can help people navigate not only the Cummins system, but any medical system, and they are both in-office and in-community, meaning they can go meet one of our patients at a specialist appointment and help them." This can be especially helpful for individuals who must manage several behavioral health or chronic medical conditions.
"We also now have a registered nurse on site who can provide education to our CCBHC patients on any of their chronic illnesses or their medications, which is something we've never had before," Megan adds.
Plans for Continued Enhancement
We're proud of the work we've done transforming our Hendricks County office into a CCBHC, but we aren't finished just yet. In fact, we've recently received an additional federal grant from SAMHSA to continue these services over the next four years.
"It's called the CCBHC-IA grant, and it stands for Certified Community Behavioral Health Clinic Improvement and Advancement," Megan explains. "It's $1 million a year for four years to continue the work that we started with our CCBHC and improve and advance those services in Hendricks County."
In addition to continuing the CCBHC services detailed above, the grant will be used to:
Increase equity of care for individuals belonging to underrepresented populations (racial, ethnic, gender identity, sexual orientation, etc.)
Improve accessibility of services for non-English speaking and disabled individuals
Increase the diversity of our Consumer Advisory Board
Increase the number of individuals enrolled in CCBHC services
In short, the CCBHC-IA grant will help us continue to realize our full vision for Cummins. Megan says, "Once the project is completed, and we've got all the bells and whistles done, a resident from the community should be able to walk into our Avon location, and not only could they get a psych evaluation and psychiatric medication, but they could see a therapist, they could have a substance use session, they could do a group service, they could see our primary care physician, and if they're in a crisis, they could interact with our crisis team. The goal of the Certified Community Behavioral Health Clinic is to create a place in Hendricks County where you can go and get all of your needs met, and not have to worry about keeping track of a lot of extra things."
If you'd like to learn more about the CCBHC-IA grant and our plans for continued service expansion, you can read our full press release here.
---
At Cummins Behavioral Health, we care deeply about the whole-person health of every individual who walks through our doors. We are excited to have this opportunity to provide more comprehensive care to members of our community, and we hope to replicate these improvements at our other service locations in the coming years. It is our greatest wish and honor to be your trusted partner on the road to recovery!